Actor
Nice Work If You Can Get It – Upstairs at the Gatehouse, London. 2018-19
SWEENEY TODD
JUDGE TURPIN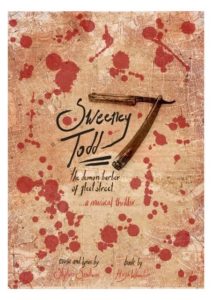 Barber Sweeney Todd returns to London after 15 years of exile, in order to take revenge on the corrupt  judge who banished him from the city. He conspires with Mrs Lovett, a local baker, who is in desperate need of fresh meat for her pies.
The production team at 88 London Road is thrilled to be bringing this iconic Sondheim musical to Brighton. We hope you like your meat pies bloody.
Reviews:
'At one point, Todd and Turpin sing a duet, when the barber has the judge in his chair, and I was still humming 'Pretty Women' to myself for most of the next day – I'm humming it again as I write this.'
For me, the story revolves around three different types of morality.
Sweeny Todd is a very moral person; but as we've seen, he's been driven to the end of his tether, and now he despises humanity in general.
Mrs Lovett, by contrast, is a totally amoral person. She really has no conscience at all
Judge Turpin is a completely immoral person. He's quite prepared to destroy a man's family to satisfy his lust, and now he's obsessed by Johannah, who's by this time a young woman. But he's not simply a caricature evil villain – the flagellation scene gives him depth as a character; shows that he recognises that his passions are wrong, and he's trying to punish himself for succumbing to them.
Interestingly, this scene is often cut from productions of 'Sweeney Todd' – it was considered too strong for American audiences in the original Broadway show – but Conor Baum has wisely included it here. It's immensely powerful – Stuart Simons is a strongly built actor; majestic, his imperious face bearded and his eyebrows arched, and with sleek greying hair above a high forehead. Stripped to the waist, on his knees, he's watching Johannah through a keyhole –
"The light behind your window
It penetrates your gown
Johannah Johannah
I see the sun through your …
NO
God
Deliver me
DOWN
DOWN"
Slashing himself over and over across the bare back with a cat o' nine tails.  There's the possibility, of course, that the self-administered whipping actually adds to the excitement of ogling Johannah's body. – Fringe Review
SPEND SPEND SPEND
GRANNY – BRUCE FORSYTHE – BANK MANAGER
UNION THEATRE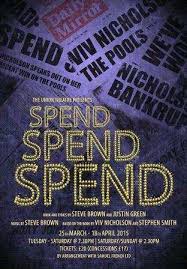 Scraping by on seven quid a week with her husband and three kids in a tiny terraced house in Castleford, Yorkshire, Viv Nicholson's life was as near rock bottom as it could get. Until that day in 1961 when Viv borrowed 5 from her Mam to play the Pools and she was catapulted from obscurity to fame with the biggest win ever – £152,319 (£5 million today). And that was it, Viv and Keith's lives changed overnight and Viv declared to the world she was going to spend, spend, spend. 'Booze, big cars, big spending, big headlines' and a succession of husbands soon led to bankruptcy. From rags to riches and back to rags again, a gritty and poignant musical about the extraordinary story of a brash and naïve, northern lass.
Reviews:
'Durham is blessed with an exciting ensemble of performers able to deliver the goods' – Musical Theatre Review
'the rest of the large multi-talented cast moved about the stage beautifully – thanks to excellent direction by Christian Durham and choreography by Heather Douglas – changing character at the drop of a hat – or the donning of a tabard – to animate the various people moving in and out of Viv and Keith's lives'.
THE MERRY WIDOW
ENSEMBLE
HOLLAND PARK, LONDON
The Merry Widow in a nutshell. … Hanna Glawari is a vastly wealthy young widow from the small and poverty-stricken Balkan province of Pontevedro. Ambassador Baron Zeta is anxious that when Hanna re-marries, it is to a Pontevedrian and not a Frenchman, to keep her money in the country and save them all from ruin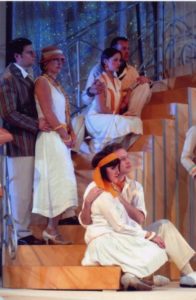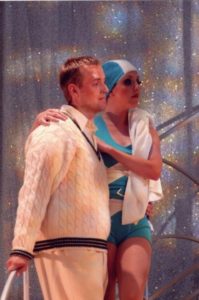 THE ADVENTURES OF MR TOAD
CHIEF WEASEL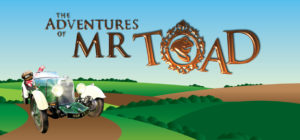 All manner of creatures come to delightful life in this musical adaptation of the classic children's book. Based on the popular book The Wind in the Willows by Kenneth Grahame, The Adventures Of Mr. Toad tells the story of a Mr. Toad and his animal friends who live a wonderful life in Toad Hall.
SINGALONGA ABBA
BJORN
HAMMERSTEIN BALLROOM NYC & WHITEHALL WEST END
Have you ever been to a concert and had the uncontrollable urge to burst into song?
Sing-a-long-a Abba Tribute is The Ultimate Abba Party, a chance to sing your heart out all night long to Abba songs, some of the greatest pop songs of all time. Celebrate the music of the Swedish Supergroup in true sing-a-long-a style, with the help of our live singers and magic moments fun pack.
The fantastic Abba Tribute singers will lead you through the famous Sing-a-long-a fun pack and get you ready to sing "Mamma Mia", "Dancing Queen" & "Waterloo" to your heart's content – it's the only Abba Tribute show with on-screen lyrics so that EVERYONE can join in!
A member of the audience (it could be you!) will be crowned Dancing Queen for the evening and everyone can dress up in their favourite 70s creation. With so much nylon around the evening will be electric!
Then, with the lyrics on-screen everyone can let their hair down, dance in the aisles and join in with "Waterloo", "Fernando", "SOS", Mamma Mia", "Gimme Gimme Gimme", "Money Money Money", "The Dancing Queen" and many other of the band's greatest hits. Everyone loves Abba music!
LA CAGE AUX FOLLES
PHAEDRA
FRANKFURT & UK TOUR
Georges and his friend Albin, stage name Zaza, run a St Tropez nightclub, La Cage aux Folles, where the stars and the chorus line are mainly men in drag. Georges and his friend have lived happily together for many years. Their apartment is also home to their black 'maid' Jacob. And, as of today, Georges' son Jean-Michel (the result of a casual liaison some twenty years before). Jean-Michel has news. He's engaged to Anne. That's the good news. The bad news is that her father is head of the Tradition, Family and Morality Party, whose sworn aim is to close the local drag clubs. And her parents want to meet their daughter's future in-laws, including his real mother. Jean-Michel has described Georges as a retired diplomat, which could lead to trouble. Jean-Michel has a solution. Albin will absent himself for the visit – and all the furniture will be changed for something less spectacular. When he finds that he's to be marginalised, Albin is deeply hurt.
Has he not brought up Georges' son, man and boy, and been a good mother? He quits the club in a thoroughly justified huff.
Next morning Georges finds Albin on the beach and suggests he dresses up as a macho uncle Al. Why not? Back at the apartment, now transformed into a cell reminiscent of a monastery, Georges receives a telegram. Jean-Michel's mother Sybil isn't coming. What to do? A ring at the door. Anne's parents arrive. Albin flees to his room, emerging as a buxom forty-year-old. Jacob has burned the dinner. A trip to a local restaurant, Chez Jacqueline, belonging to an old friend of Albin and Georges, is quickly arranged. No one has briefed Jacqueline on the situation and she asks Albin for a song. Alas, as Zaza, he completely forgets himself and at the song's climax tears off his wig, revealing his true identity.
Back at the apartment the Dindons make their disapproval known. Their daughter is not persuaded. She's in love with Jean-Michel and will stay with him. The Dindons prepare to leave. Their way is blocked by Jacqueline, who has arrived with the Press! How piquant to have a picture of the most notorious anti homosexual with the most famous St Tropez homosexuals. Georges and Albin have a solution. Anne and their son must be allowed to marry, of course. And the Dindons will be allowed to escape – through La Cage aux Folles next door! And that is what happens, with the Dindons dressed as artistes of the revue, and Mr Dindon as the ugliest drag queen imaginable! So all ends happily – at least for everyone for whom it should.