Grooming
Stuart has always had a love of animals. As a child his mother would despair as he would rescue unwanted pets and bring them home to look after. He once rescued 15 Chinchillas that had been released on to a main road from the back of a Thai Restaurant and successfully re-homed them all. His love for animals and their welfare goes before anything else and is known for his ethical and safe treatment of them whilst in his care. 
On completing his training, he went on to take his Level 3 City and Guilds Diploma in dog grooming examination which he passed with flying colours. Even though fully qualified he continues to study to achieve further exams and gain more knowledge in pet care. He believes that there is nothing more important than education, especially where our pets are concerned. 
He holds a master certification with the N.A.P.C.G. (National Association of Professional Creative Groomers) and is currently the only certifier in Europe for the association. Something he is hugely proud of. He gained much attention within the industry for grooming Emma Watsons dog and safely dyeing her pink in aid of a cancer charity. 
Having groomed for many TV Shows including The Jonathan Ross Show, Alan Titchmarsh, This morning, Russell Howard and many more, he is no stranger to public speaking, In fact, before entering the world of Grooming he worked as a professional actor/presenter. No one in the industry is better placed as far as public appearances go. He often jokes that he had to become a dog groomer to get success as a performer. 
He is the MC for the majority of Dog Grooming Competitions in the UK and also Judged both in the UK and abroad. He is incredibly proud to have judged twice in the USA. He has Judged numerous shows in the including UK groom Off for pets at Home, Groomer of the Year for The Pet Industry Federation, The Groomers Challenge for The English Groomers Group, The Grooming Show, Mastergroom and the Irish Professional Dog Groomers Association.
Stuart is the Owner and Proprietor of Groom Dog City, a hugely successful Grooming Salon in London's East End and voted No1 in the UK in 2020. He is in Partnership for Tails of St Leonards, another Salon In East Sussex. Both salons are open plan as Stuart believes in transparency during a groom and even happily encourages the owners to stay. 
In 2017 he launched The Groomers Spotlight with Julie Harris, a website directing people to find qualified groomers in their area. He feels that it is hugely important that the public know that their groomer is trained in all aspects of the job. Dog Grooming is a hugely skilled profession that should only be undertaken by trained professionals. The Groomers Spotlight represents hundreds of groomers who are proud of their qualifications. For more information, go to www.thegroomersspotlight.com.
He believes that every owner should do their bit when it comes to home grooming. One to one time with your dog is essential for bonding, not to mention skin and coat care. The FURminator brand has a huge amount of tools for owners to really get on board with for that bonding and coat care routine. That is why Stuart is so happy to be the Technical Consultant for the brand  and ambassador for such a wonderful set of products. 
https://www.stuartsimons.com/80167-2/
check out Stuarts tips on home grooming during lockdown! click the pic!!!!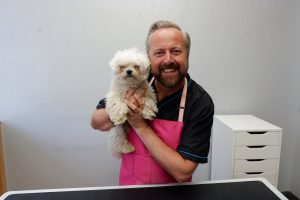 More recently, Stuart has accepted the challenge to become 'The BBC TV's Pooch Perfect' Grooming Consultant. The role entails advising the producers of the show on all things grooming, something he adores and takes incredibly seriously.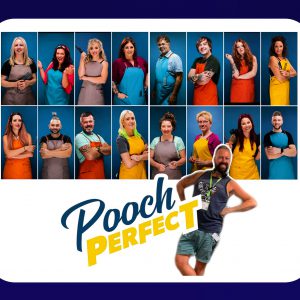 Click below for info re: Creative Grooming!